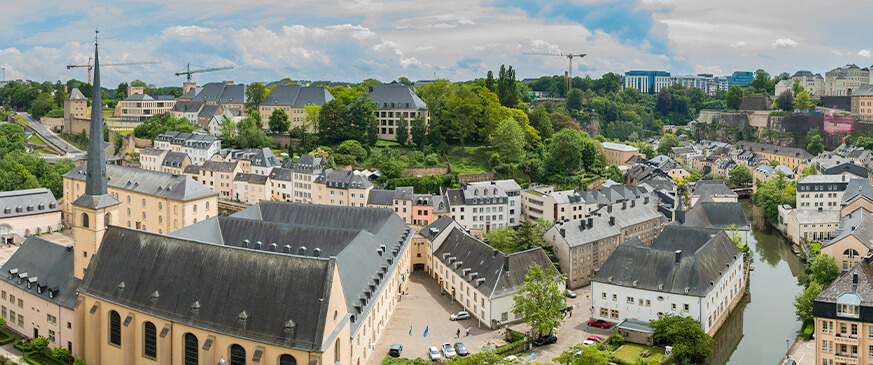 The key benefits
Moving to the Grand Duchy of Luxembourg means choosing a country committed to the environment, whose welcome and quality of life are clear for all to see!
Expatriates from all over the world are attracted to the country, mainly because of its standard of living, its colourful history, its low crime rate, its diversity and its rich culture.
5 reasons for moving to Luxembourg:
Located at the heart of Europe, near France, Germany and Belgium. Luxembourg City is one of the EU's three capitals, along with Strasbourg and Brussels.
Most Luxembourgers are multilingual and speak Luxembourgish, German, French and English. Children in state schools are educated in the four languages. Portuguese is also widely spoken, owing to the large number of Portuguese people living in the country.
World-class cuisine! Luxembourg City is the capital with the most restaurants featuring in the Michelin Guide per capita in the world.
Luxembourg is the second richest country in the world by per-capita GDP. It is also one of the countries in Europe with the highest salaries.
With its dense and rolling Ardennes forests, the Moselle, Little Switzerland (Mullerthal) and its cosmopolitan capital, the landscapes and various atmospheres offered by the Grand Duchy will seduce you.
What do they think of Luxembourg?
The day our employees discovered Luxembourg

Maguelone Billion
Senior Digital Marketing Manager
From Paris to Luxembourg
Living in Luxembourg above all means living and working in a multicultural environment. I particularly like hearing and speaking different languages every day...a conversation can start in one language and finish in another! This environment is also very enriching for children, as it allows them to discover and appreciate the traditions and cultures of different nationalities.

Margaux Jallard
Innovation Coordinator
From Paris to Luxembourg
Luxembourg has the appeal of an international capital, with a central place in Europe, set among lush vegetation and nature. You can live in the city, enjoy its culture and many restaurants, get around on foot, by bicycle or by bus (free of charge), and have cows and sheep as neighbours.

Nicole Bour
Management Assistant
After 15 years as a cross-border worker, my family and I decided to move to Luxembourg. For some years now, we have been lucky enough to live in this environment that is decidedly open to diversity: for me, the mix of cultures is a tremendous asset. Living in Luxembourg after being a cross-border worker considerably increases your quality of life. I'm happy I made that choice.